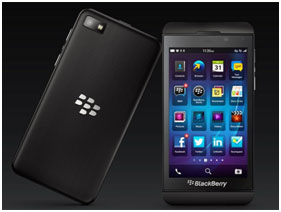 With its 4.2 inch touch screen meaning there is no space for BlackBerry's quintessential physical qwerty keyboard you could be forgiven for thinking the BlackBerry Z10 is just a copy of the leading phones that have come to dominate the market. However, with a screen resolution which is 40% higher than its main rival, the iPhone 5, you can see there is at least some innovation. That is not to mention the other specs which include: a dual core 1.5GHz processor with 2GB of RAM, an internal memory of 16GB and an expendable memory of up to 32GB which again more than matches up to its main rivals. All that plus it possesses a high quality battery allowing for up to 10 hours of talk time and a micro HDMI port which allows for the high quality video which can be streamed on the phone to be transferred to your HDTV.
The specs bode well for anybody interested in the phone but the question remains of whether the technology comes together to create an enjoyable experience for the day to day user of the phone? To help answer this question here are four feature used daily by users of the BlackBerry Z10.
BlackBerry Z10 camera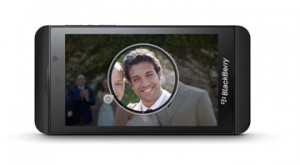 Firstly, we have the 8MP rear camera which serves users well whether they are snapping family photos or landscape shots. An advantage of the BlackBerry Z10 camera is that, even when the screen is locked, it is only a finger press away. Quick to load and simple to use it makes catching those great moments very easy and the user only need tap a couple more times to share pictures with friends and family. The aspect of the camera that makes it really stand out from amongst the crowd is the Time Shift feature which brings a smile to all users faces as they can lock on to the persistent blinker in group photos and open their eyes by 'rewinding' a frame or two.
 Blackberry Messenger (BBM)
Another feature that is used greatly by Z10 users is Blackberry Messenger (BBM). As ever it allows users to message and exchange photos with their contacts for free but now through the Z10s front camera the user can also utilise the new BBM video chat feature. In video chat users can, again for free, talk to any contact face to face as long as they are connected to Wi-Fi. This makes it ridiculously easy for users to catch up with far flung friends or talk business with any colleague or contact no matter where they find themselves in the world.
Internet Browser
A third feature of the BlackBerry Z10 which is used daily by users is the internet browser. The browser is a total upgrade from previous clunky and slow BlackBerry browsers. It allows for fast, the Z10 is 4G enabled after all, and flowing browsing with more games and videos accessible than on other similar technology due to the Z10s ability to support Adobe Flash.
BlackBerry Hub
A fourth feature that is certainly in daily use is BlackBerry Hub. The Hub has been specifically designed to house all texts, social media notifications and e-mails in one easily accessible place. If a user receives a message while doing something they simply need to swipe their thumb up and to the right to peek into their Hub. This peeking allows the user to assess the urgency of the message and decide whether to reply now or later. This means if the message is not urgent the user is not too disturbed by the message and if it is, they can simply swipe away the app they are currently using, reply to the message and then return to the app exactly where they left it when ready.
So, there you have a description of four great features on a generally pleasing phone. However, it all means nothing if the price is not right for you. Luckily, the BlackBerry Z10 price is around P29,990 and if you want to avoid the upfront fee you can always go for a contract which can be as cheap as P1,800 a month.
---
Did you find this useful?
I'm always happy to help! You can show your support and appreciation by Buying me a coffee (I love coffee!)