You might be wondering if there is any way on how to track whether someone already read your e-mail or not.
Some use cases for this is:
- you sent some documents that needs to be read by someone before a specified time, and you want to make sure they read it before that time arrived
- you want to make sure the e-mail you had sent is not in spam folder
- confirm when someone keeps denying that they haven't read or received the e-mail
- you want to trace where the exact location the e-mail was read by the receiver
To tell to you, yes, those are all possible.
What you need to make it possible are:
- gmail e-mail account
- firefox or chrome browser
- RightInbox browser extension
Let me show you how it works,
at first, you need to install the "RightInbox" browser extension from here -- http://www.rightinbox.com/install
then, after installation,
go to www.gmail.com
a dialog will be confirming that the RightBox extension you had installed is now ready.
It might ask some stuffs and authorization so that it can access your gmail account.
Now, click the "Compose" button on your gmail account,
you should see 2 new buttons, like this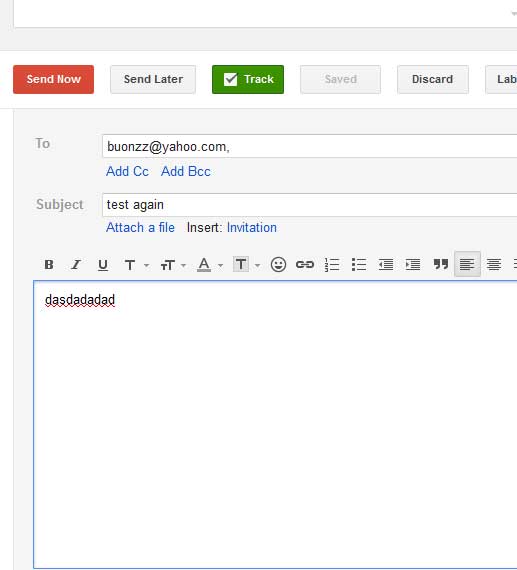 Check that "Track" button thing
compose your email, then send it out.
Once the receiver had read/opened the email you sent,
you will be receiving a message like this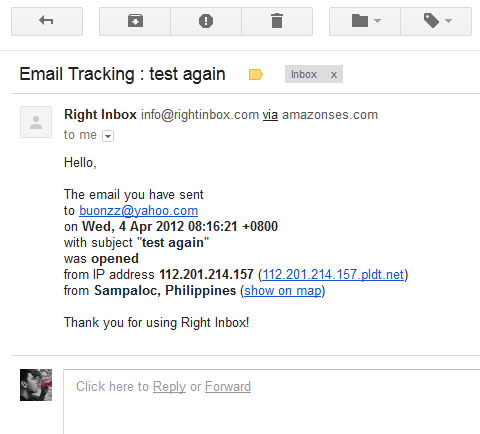 As you could see, it details the ff.
- time and date when the user read the email
- what IP and location did he read it
So now, you can confirm that the email you just sent was really read by the receiver!
---
Did you find this useful?
I'm always happy to help! You can show your support and appreciation by Buying me a coffee (I love coffee!).